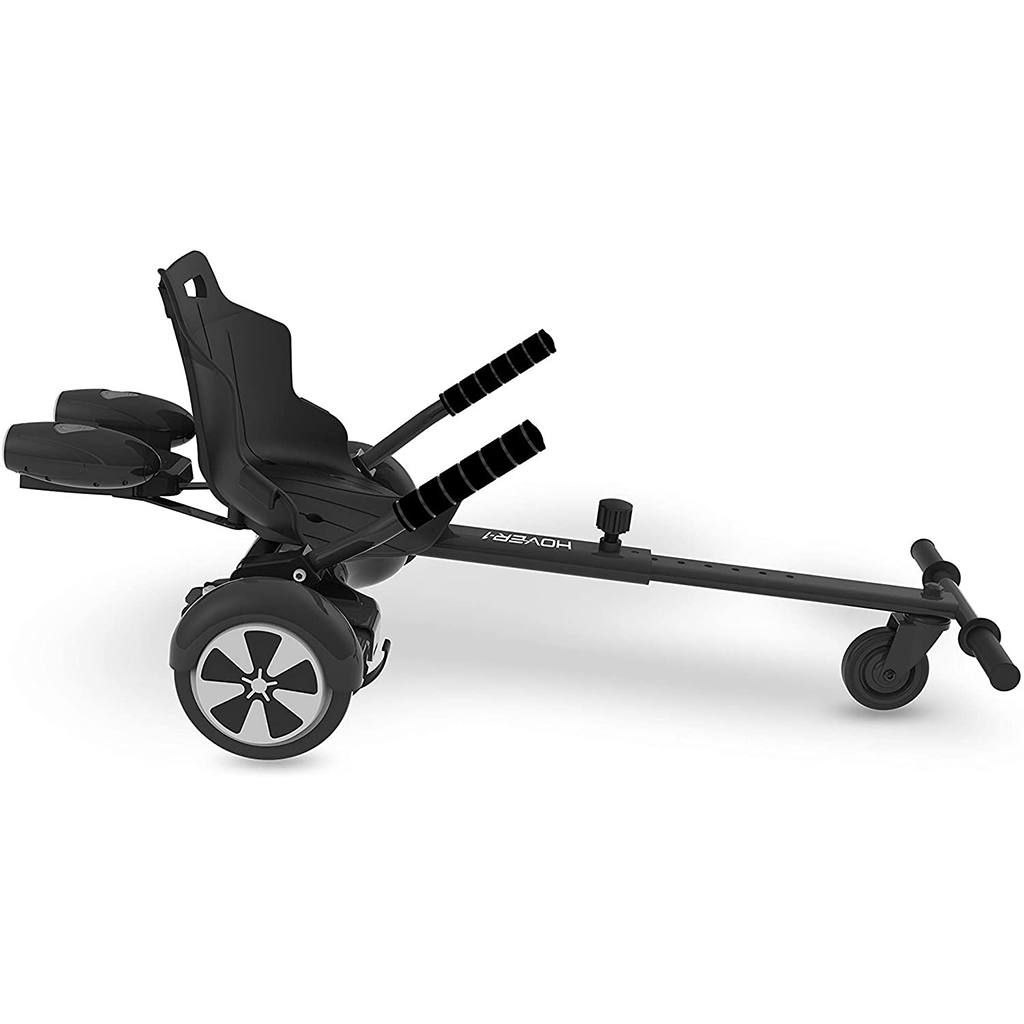 Hover-1 Falcon Hoverboard Attachment
H1-F1-BGY
---
Looking to get more fun out of your Hoverboard or self-balancing Hoverboard? Turn your Hoverboard into a 3-wheeled buggy with the Hover-1 Falcon! The Hover-1 Falcon has a fog blaster and LED lights to give your Hoverboard that extra pop! Just strap your Hoverboard into the seat attachment to get all the excitement of a go kart wherever you like to ride. The 360-degree rotating front wheel, you can roll down the road as fast and fun as your Hoverboard can take you! The Hover-1 Falcon is perfect for kids to get all the fun of a self-balancing Hoverboard without the worry of losing their balance and getting hurt. The Falcon frame is adjustable to match nearly any length legs or arms. The Falcon handles are attached to the pedal mounts connected directly to the foot pedals of your self-balancing Hoverboard. By pushing and pulling the steering levers, the speed and direction of your Hoverboard are put right in your hands! This Hoverboard Falcon is one more way you can have fun with your self-balance Hoverboard. Ride in style with Hover-1!
Fog blaster!
LED lights!
Buggy Attachment fits hoverboards with wheels 6.5 – 8 inches
Hand-operation gives you full control of your riding experience
Independent rear wheel drive allows for quick turns and reverse driving
Dual shock absorbing coils
Adjustable frame length
Adjustable straps to securely attach the buggy to your electric scooter
Compatibility: Most self-balancing electric scooters
Max Load: See max load of your electric scooter
Max Speed: See max speed of your electric scooter
Perfect for the Hover-1 Eclipse, Allstar, Eagle, H1, Helix, Liberty, Matrix, Maverick, Superstar, Ultra, and the Nomad!!
Still need to register your warranty?
Product Manual
Still have questions or need technical support? Let us know!