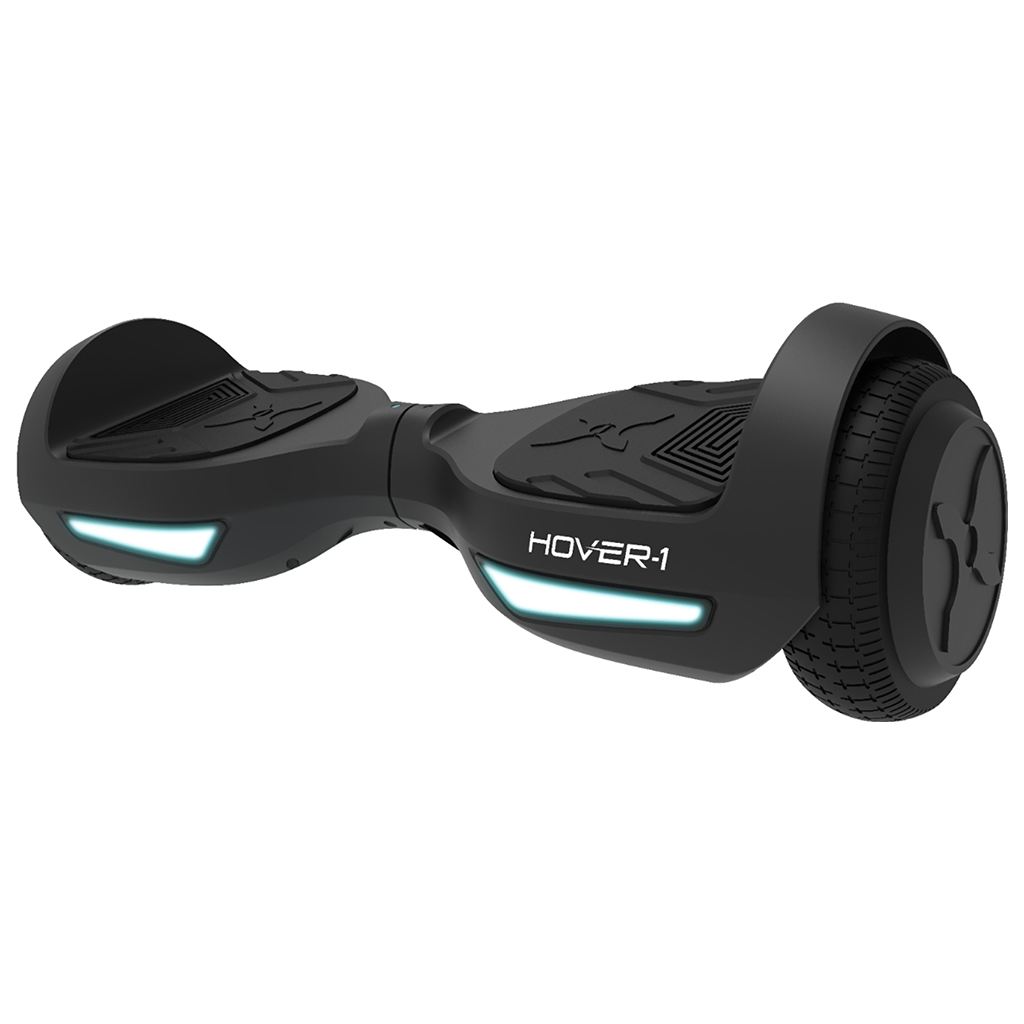 Hover-1 Drive Hoverboard
H1-DRIVE
---
Let your kids zip through the neighborhood with Hover-1 Drive Electric Scooter, a futuristic transportation device that makes riding fun and enjoyable. Designed for both indoor and outdoor riding, this hoverboard scooter features step-on sensors with non-slip footpads, path-illuminating LED headlights, 6.5″ non-pneumatic tires and powerful 160W dual motors that can reach a speed of 7 mph even on a 10-degree incline. With a self-balancing design, this easy to learn scooter is perfect for kids and teens as it provides stability and control to keep them upright. Equipped with a 36V/2.0 Ah Li-ion rechargeable battery, this two-wheeler can travel up to a short distance of 3 miles on a 6-hour charge. The battery indicators on the board notify you about the battery level at all times. Meeting all necessary safety standards, it is UL2272 certified and MSDS & UN 38.3 tested. This fantastic and modern hoverboard makes a great gift idea for young children and teens on their Birthdays or Christmas.
6.5″ Wheels with the Hover-1 Drive Electric Scooter provides a smooth ride. LED lights add visibility, 320W motors (160W x 2) provides enough torque capable of inclines up to 10 degrees, a top speed of 7 mph over a 3 mile range.
Step on one side first, the board stabilizes so you can put your other foot on. Controls are easy to learn, allowing you to smoothly accelerate/decelerate by applying pressure with your feet and/or leaning.
With Hover-1, the built-in inertia dynamic stabilization system keeps you in control. The Dream hoverboard scooter stabilizes the rider, controls balance and motion for a safe, stable & fun riding experience.
IPX-4 rated for water-resistance, this hoverboard features a built-in 36V/4.0 Ah Lithium-ion rechargeable battery (certified), fully charges in 6 hours. The safety shield battery enclosure prevents fire & overheating.
The hoverboard sends alerts if you are speeding or riding on unsafe surfaces so you can slow down and avoid mishaps. LED lights on both sides of the hoverboard adds visibility of any rider when it matters most.
Still need to register your warranty?
Product Manual
Still have questions or need technical support? Let us know!